Foundry Casting Processes
Our foundry casting processes include, the Lost-wax Bronze Casting Process, Sand Casting, Vacuum Casting and Spin Casting.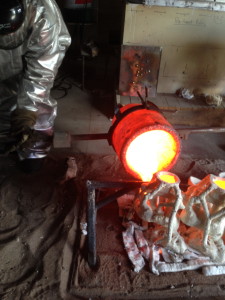 To cast any of our sculptures, we first need to hand make the original model. The model is an exact representation of how the end product will appear. We use a specialised modelling clay to achieve this.
Making a mould from the original model is the next stage in all of the casting processes. The mould is then used to reproduce the model in either wax or fibre-glass, for the chosen casting process.
The metals we cast or pour are bronze, aluminium, zinc  and pewter. The  metals are melted and poured at temperatures reaching up to 1160 degrees Celsius. This allows us to achieve the desired result we require for a quality finished product.
We then sell directly to the general public and tourists through our Gallery, located  at  Sculpted Metals,  654 State Highway 25 Waitakaruru, New Zealand.
Furthermore, we facilitate both national and international sales via our online shop.
Sculpted Metals take great pride in making quality Kiwi made art. Skilfully designed, sculpted and cast onsite and beautifully finished  in our own workshop!
Go Kiwi Made!!!
The above video demonstrates a typical pour in our foundry.