Congratulations. If you have purchased or received one of my Stainless Steel Art pieces as a gift, here are a few care instructions to ensure it is kept in pristine condition.
Firstly, the Stainless Steel I use is 316L Marine Grade. It is the best quality Stainless Steel I can purchase. It is sometimes referred to as 'Surgical Steel'.
316L stainless steel is a type of metallic alloy of stainless steel that is austenitic and contains nickel and molybdenum, which make it corrosion resistant.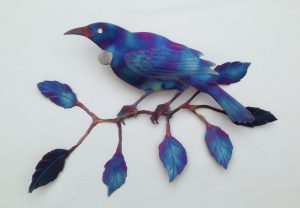 By using this grade of Stainless Steel my products are suitable for both indoor and outdoor use. The beautiful colours are  achieved through a series of heat application processes. In addition each piece has been acid washed and rinsed.
It is important to note that you should avoid touching your art piece with your fingers when handling. Instead hold the item by the edges and support it at the rear with your hands.
Stainless Steel Care Instructions
To ensure the colours remain vibrant please follow these basic guidelines;
Do not touch the art pieces with your fingers.
Keep dust, dirt and debris free.
Using a soft sponge, warm water and dish liquid. Wipe the piece over.
Allow to dry.
I recommend you only wipe the art piece as often as required to keep it clean. This may vary if its located indoors or outdoors, undercover, in the sun or near the seaside. Simple rule of thumb, if the art piece appears dirty, clean it following the above guidelines.
Many thanks for your purchase, I hope you enjoy it for years to come.