Sculpted Metals Art Gallery –
A New Zealand Sculpture Artist
Sculpted Metals art gallery prides itself on creating handmade quality art. Most importantly, our products are made on the premises, using locally sourced NZ materials.
Specialising in Bronze art, Nathan at Sculpted Metals uses a wide variety of materials to create his art pieces. Stainless Steel, Aluminium, Zinc, Pewter and Copper are the most commonly used.
From originals, limited edition series, and popular best sellers.  Sculpted Metals stock a  wide variety of 'Kiwiana' souvenirs and gifts. Inspired by NZ native wild and marine life. Our artwork is  priced to suit all budgets.
Presented  by Nathan Whitehead, Sculptor.
The Sculpted Metals Art Gallery
Our Gallery has a wide range of original metal sculpted art pieces. 
The Gallery is constantly evolving,  as different art pieces come and go. So its definitely worth calling in to see us, at our new gallery at Patetonga or jump online to see what is available.
You can find us  located at Patetonga, in our Sculpted Metals Building, the one with the big Moa attached to the front wall.. Patetonga is found on the Hauraki Plains on the main Highway 27 which runs from Matamata to Bombay, Auckland..
If you're unable to visit our gallery directly, you can always take a look at our product range via our online shop. Some of our items are made as you order them, others are in stock and can be collected from our gallery  or we can arrange delivery for an additional cost.
Nathan is always working on creating new sculptures. At present he has just completed a life sized Bronze NZ Kakapo. This  piece is part of the NZ Treasure Series – Bronze, which already includes a Pair of Huia birds and a Tuatara.
The NZ Treasure Series is a life sized limited edition  collection of New Zealand rare wildlife and therefore, they all come with a certificate of authenticity and valuation. 
A note from the artist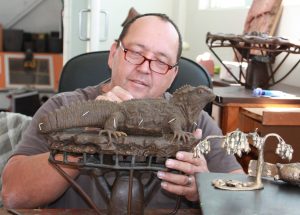 Thank you for your valued custom. By purchasing my art, you're supporting me to continue my career as a New Zealand artist. For which I am truly grateful.
Kindest Regards,